What is the progress of your municipality?
Find out which indicators monitor your municipality's progress for each SDG.
What is the local SDG?
The mobilisation of municipal decision-makers and technicians, local agents and citizens in relation to the Sustainable Development Goals.
SDGlocal'21 Conference - Towards 2030
Review all the moments and get to know the municipalities, projects and good practices that won the ODSlocal award.
Conferência ODSlocal - Caminhos, Dinâmicas, Futuros

Dia 7 de dezembro, a partir das 14h00, vai ser realizada a conferência anual da Plataforma ODSlocal. Um evento de celebração, com um programa diverso, que contará com oradores convidados, distinção e diálogo com promotores de projetos e municípios cujas práticas têm contribuído e inspirado a prossecução dos ODS.
A participação no evento é gratuita mas sujeita a confirmação. Pode optar por um de dois formatos: online - inscrição ou presencial - inscrição (depende da capacidade da sala).
Framework
The 2030 Agenda proposed by the United Nations in 2015 was adopted and adapted by the localSDG Platform, so that its goals are suitable to the reality of Portuguese municipalities. 119 out of the 169 targets were considered, of which 25 were adapted and are structured according to Dimensions, Objectives, Themes, Targets and Indicators.
Objectives
The ODSlocal Platform, based on a comprehensive and intense mobilization of municipal decision-makers and technicians, local agents and citizens in relation to the Sustainable Development Goals (SDGs) proposed by the United Nations in the 2030 Agenda, aims to create a national movement for local SDGs that the Municipalities want to join, mobilizing the remaining public and civil society actors in an exponential and contagious way.
Involving as partners CNADS (National Council for the Environment and Sustainable Development), OBSERVA (Institute of Social Sciences, University of Lisbon), MARE (New University of Lisbon) and 2adapt, this initiative is based on a dynamic online portal that allows the visualization and monitoring of the contributions and progress of each municipality in relation to the SDGs, with a strict quality control of the information and an intense involvement of actors and respective empowerment, along with a strong investment in a communication strategy.
Methodology
The ODSlocal Platform aims at monitoring the progress of Municipalities in relation to various SDG targets through progress indicators based on information from national national databases and the municipalities themselves. It also aims to map the innovative and sustainable practices that both municipalities and civil society and companies are implementing, and measure their impact.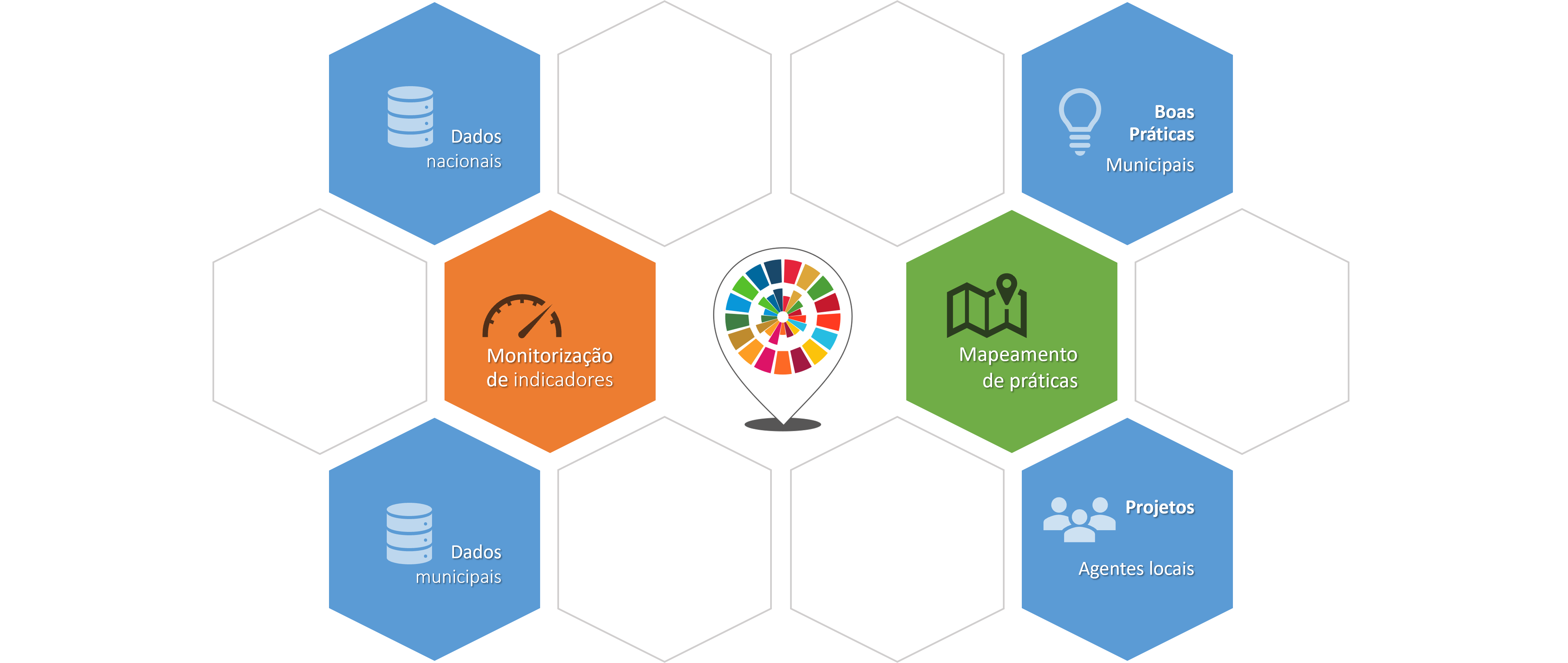 Participating Entities
Promoters
High Sponsors
Institutional Collaboration
Supporting messages
Municipalities participating in the pilot phase
Support
GENERAL INFORMATION
RESOURCES
SUBSCRIBE TO OUR NEWSLETTER
Receive our news and participate in the change.